Drawing Manga
Hello everyone. I hope you all had a great weekend! Today I would like to welcome you back to my arts and entertainment blog. As you all already know, I really like comics, especially Captain America. But from time to time I'd also like to enjoy some Japanese Manga. I recently even attended a Manga drawing course and I would like to share my experiences with you. Just in case you want to start as well, here are my two cents on how to best get started.
Reading Mangas and Watching Amines
If you want to draw Mangas, you should – of course – read Mangas yourself and also watch good Animes. My advice is to wait until you buy your very first Manga drawing book because most beginner books show mainly only certain poses. There are some very good Manga books by Japanese authors.
Furthermore, if you read a lot of Manga, you will soon be able to recognize all the different brands and styles. It is like the various comics and video games. Soon you will be able to distinguish the real Japanese Manga from the fake ones. There is indeed a lot of difference, which can easily spotted at first glance.
Tools and Techniques
There are many ways to draw a Manga. There are traditional and modern methods. The latter ones involve the help of computers and drawing programs.
If you really want to do it the traditional way, you need drawing ink, best water soluble, a few different drawing pens and lots of patience and practice. I only recommend this method for the very experienced artist.
It is actually better to keep it simple when you just get started. Just get some decent pencils with different degrees of hardness and some fineliner pens. Stabilo is a good brand to start with as well as Staedtler. Both can be purchased cheaply off http://www.gebraucht-kaufen.de/fineliner-stifte.
Manga Drawing Books
Before you get started with a Manga drawing book, make sure you draw as much as you can. This way you will develop your own style and not just imitate the author or artist. If there are any step-by-step drawings in the book, don't just go to the last picture and copy it. This way you would just deceive yourself, and in the end draw exactly the same as the artist from the book. It is better to start with the circle for the head, the eye lines, etc. You can draw the character in the exact same pose as in the book, but draw your own character!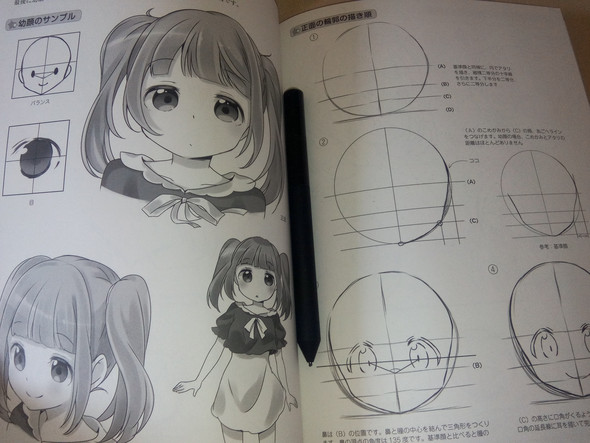 A good place to to look for cheap beginner books is my favourite shopping site http://www.gebraucht-kaufen.de/mangas-zeichnen.
If you are really into Manga and looking for inspiration, it is a great idea to attend a Manga and Comic fair. The Manga Comic Con in Germany. It actually is part of the famous book fair in Leipzig, Germany. If you missed it this your, maybe you can join in 2018. More information can be found on the official website http://www.manga-comic-con.com/.
So, that's it for today. I hope your start into drawing Manga will be easier than mine. And if you are looking for good and cheap drawing equipment, the website www.Gebraucht-Kaufen.de offers great deals and bargains. They offer all kinds drawing equipment such as pens, pencils, papers and different colours. So make sure you visit it out before you get started.